Head of Imam In Ilorin Expresses His Opinion On Fulani Herdsmen Menace In South West
Chief Imam of Yoruba chapter in Ilorin, Kwara state, Sheikh Abdulraheem Aduranigba, has vibrantly spoke up on the recently kidnap, rape, maim, and killing of people in the South West region of the country and destroying of farmlands.
While there are many argument for the tribe from a group representing the, Miyetti Allah, firstly that, it wasn't Fulani who were committing that atrocities and later admitted that the perpetrators are not from the country, Chief Imam disclosed and noted that even the Sultan of Sokoto acknowledged that 80% of all kidnap, rape, maim, murder of the other ethnic group and destroy of farmland usually come from the Fulanis.
In an interview with a regional newspaper, Alaroye, which was uploaded on Facebook by Oduduwa Alliance for Independence, Sheikh Abdulraheem also disclosed the agenda of the Fulani which has been in place as far back as 1902 when they took over Ilorin stating the plans of taking over the whole of South West and "Fulanize" the region.
Read also: Sunday Igboho Warns Security Agencies Over Misinterpretation of Buhari's Shoot at Sight Directive
He is strongly against the current situation as almost all the fleeing Fulani herdsmen in Oyo and Ondo now residing in different areas of Kwara state and there are already cases of kidnap which is causing unrest in the state.
He made it know openly his continue effort and support for the current movement to chase the Fulani out of South West and also declared his support for Yoruba Self-determination/self-governance.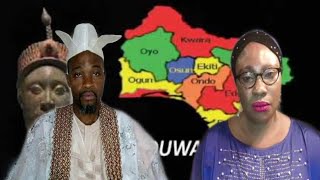 Recall that there have been different cases of killing, kidnapping, and destroy of farmlands on the region, a notable one that happened in Ibarapa area of Oyo state that led to the prominent Yoruba activist, Chief Sunday Adeyemo also known as Sunday Igboho to issue the Fulani people in the community an ultimatum to vacate the community.
This has resulted into tension between the two ethnic groups( Yoruba and Fulani). At a point there was a communal clash in a market called Shasha in Ibadan that claim a lot of lives and damage of properties.